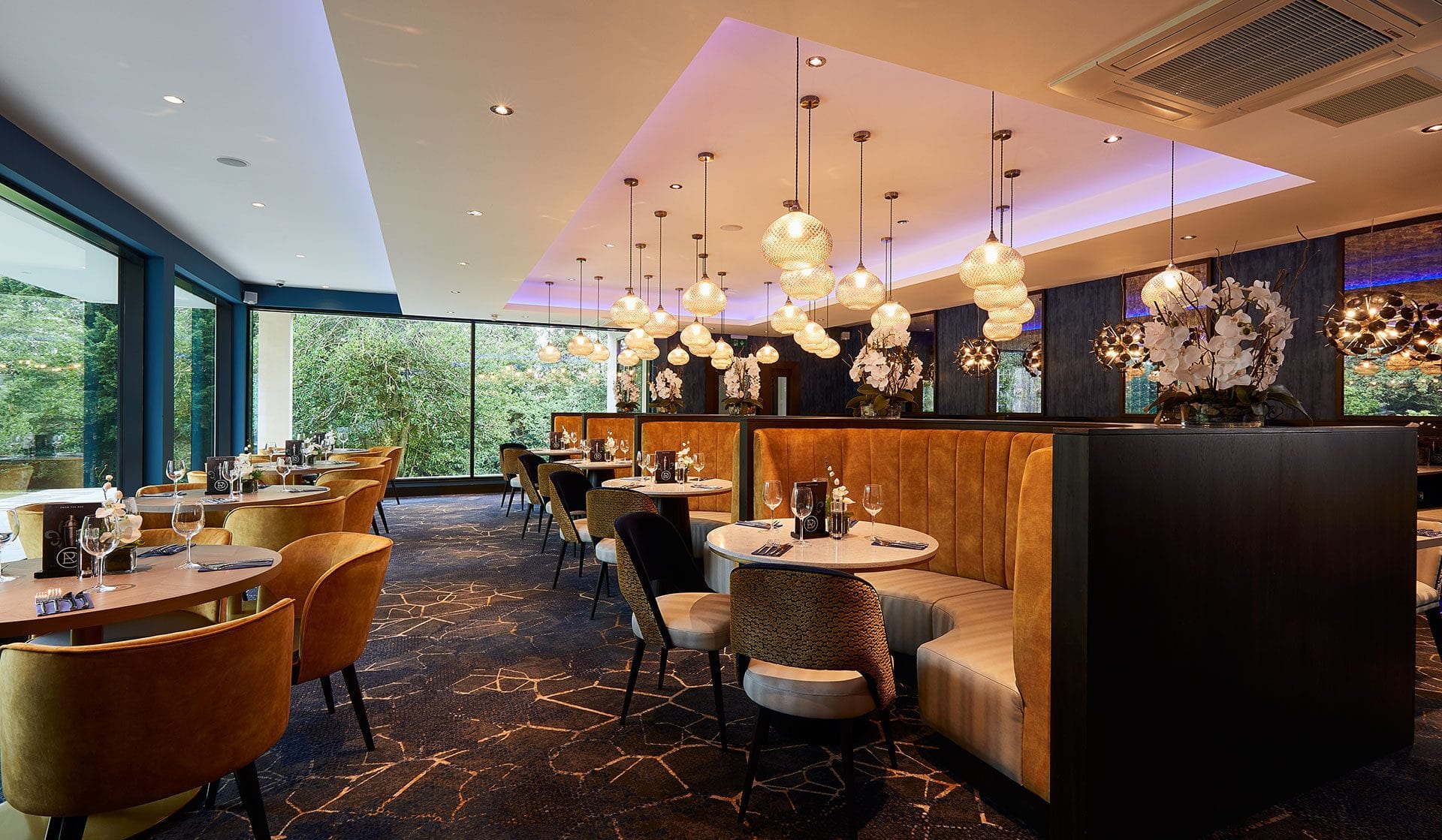 Dalmeny Park House Hotel
Orchid Restaurant, Bar and Lounge
Enjoy a delicious meal from our Lounge Menu.
Join us in our beautiful Orchid Restaurant, Bar and Lounge and enjoy a delicious lunch and dinner here at Dalmeny Park.
Dine in style and sophistication with our brand new restaurant. Perfect for intimate dining or large groups.
Sip on our delicious cocktails while enjoying the panoramic views over our gardens.
All vegetarian options are marked with (V) and vegan options are marked with (VE).
We do also cater for all other dietary requirements. 
STARTERS
Chefs Homemade Soup of The Day

£4.95

Bacon & Mozzarella Bruschetta

£7.95

toasted ciabatta bread, black pudding crumble, balsamic glaze
Grilled Goats Cheese

£7.95

waldorf salad, beetroot glaze

Grilled Smoked Salmon

£8.95

rocket salad, beurre blanc

Bang Bang King Prawns or Cauliflower (V & VE)

£9.95 | £7.95

panko crumb, sweet chilli and siracha sauce, seasame seeds

Creamy Garlic Mushrooms

£7.95 (V)

spring onions, mature cheddar, garlic ciabatta bread

RAD Tower of Haggis & Black Pudding

£7.95

peppercorn cream, root vegetable crisps

Classic Prawn Cocktail, Gravadlax Salmon

£9.50

marie rose sauce, lemon wedge, toasted ciabatta, smoked paprika

Chicken Liver Parfait

£7.95

ciabatta bread, black treacle compote

Crispy Tempura Chicken

£8.50

King Prawn (£9.50) Mixed Vegetable (£7.75) (V)(VE)
sliced chillies, spring onions, sweet chilli sauce,
garlic mayonnaise
Main Course Crispy Tempura with Fries (Chicken £15.95) (King Prawn £16.95) (Mixed Vegetable £15.50 V & VE)
SIDE ORDERS
Garlic Bread

£3.95

Fries

£3.95
Cajun Fries

£4.25

Buttered seasonal Vegetables

£3.95

Creamed Mash Potato

£3.95

Tender Stem Broccoli

£4.25

Garlic King Prawns

£7.50

Crispy Onion Rings

£3.95

House Dressed Side Salad

£4.95
RAD CLASSICS
Classic Steak Pie

£15.50 . £11.50

puff pastry, baby vegetables, creamed potatoes
(small portion available)

Battered Fillet Of Haddock

£15.50 . £11.50

fries, garden peas, salad, tartar sauce
(small portion available)
Three Cheese Macaroni (V)

£15.50 . £11.50

fries, toasted garlic ciabatta bread
(small portion available)

Cajun Chicken Lasagne

£15.50 . £11.50

fries, salad, toasted garlic ciabatta bread
(small portion available)

Breast of Chicken With Haggis

£15.95

peppercorn sauce, seasonal vegetables, roast and creamed potatoes
MAINS
Slow Braised Beef topped with Black Pudding

£17.95

peppercorn sauce, roast and creamed potatoes, seasonal vegetables

Trio of Seafood

£19.95

grilled seabass, chilli and garlic king prawns,
sesame salmon, garlic and herb fries
Cajun Spiced Butterfly Chicken

£15.95

fragrant basmati rice, coconut curry cream, pashweri style naan bread, coconut shards

Fillet of Salmon

£17.95

smoked salmon crushed potatoes, lemon hollandaise, sprouting broccoli

Chicken & Smoked Pancetta Rigatoni

£16.95

parmesan & pesto cream, toasted garlic bread
(VEGETARIAN OPTION AVAILABLE £14.95)

Oriental Vegetable Stir Fry

£15.50

soft egg noodles, crunchy vegetables, roasted cashew nuts
Add chicken: £2
King Prawns: £3

Fillet of Monkfish wrapped in Spinach & Parma Ham

£17.95

citrus pearl cous cous, red pepper emulsion

Broccoli, Spinach & Sun Blushed Tomato Open Lasagne

£15.50 (V)

mozzarella cheese, fries, toasted garlic bread
GRILL & BURGERS
Chargrilled Sirloin Steak

£27.95

8oz steak, grilled mushrooms, tomato, fries

Chargrilled Fillet Steak

£30.95

8oz steak, grilled mushrooms, tomato, fries
Chargrilled Butterfly Breast of Chicken

£15.95

grilled tomato, mushrooms, fries

RAD Double Burger

£17.50

2x 6oz burger, applewood smoked cheddar,
bacon, salsa, lettuce, beef tomato, homemade
slaw, brioche bun, onion ring, fries

Chicken Fajita Burger

£15.50

cajun chicken breast, onions, peppers, sour cream,
cheddar cheese, salsa, fries, lettuce, beef tomato,
homemade slaw, brioche bun

Highlander Burger

£15.50

6oz burger, haggis, lettuce, beef tomato, fries,
homemade slaw, brioche bun, pepper sauce

Halloumi Burger

£14.50

cajun mayonnaise, lettuce, beef tomato,
homemade slaw, brioche bun, fries
ADD SAUCE £3.25
PEPPERCORN / RED WINE JUS / GARLIC BUTTER
DESSERTS
Chef's Cheesecake Of The Day

£7.50

whipped cream, fruit garnish

Sticky Toffee Pudding

£7.50

butterscotch sauce, vanilla ice cream
Rhubarb and Apple Crumble

£7.50

vanilla ice cream, warm custard

Luxury Chocolate Fudge Cake

£7.50

caramel sauce, white chocolate shavings, fudge pieces, honeycomb ice cream

Mango, Pineapple & Passionfruit Pavlova

£7.95

toasted coconut shards, tropical fruit sorbet

Cheeseboard

£8.95

blue stilton, howgate brie, mature white cheddar, red onion chutney, biscuit selection, grapes

Scottish Sundae

£7.95

crumbled tablet and shortbread, sliced strawberries, ripple ice cream, whipped cream, red fruit coulis

Trio of Ice Cream

£7.25

vanilla, chocolate, raspberry ripple, tablet, mango
choice of sauces: toffee, chocolate, raspberry