Inside the Dalmeny Park Renovation
Updates
Since taking ownership of the traditional House Hotel in October of 2017, RAD Hotel Group owners, Robert and Vivien Kyle are now working on a full scale renovation. Including the function suite, restaurant, public areas, bedrooms and the design of a brand new Honeymoon Suite.
The Plan
The plan is to give the hotel a sleek and modern feel while maintaining its character. The decor in the original building will remain sympathetic to the venues traditional charm. Keeping signature features such as four poster beds, but with an updated bespoke feel. Whereas the decor of the extension will stay true to its modern design. The two worlds will be connected by the public areas of the hotel designed with a blend of both styles creating a transition that feels natural. A balance of traditional and contemporary to transform Dalmeny Park into one of Glasgow's premium Wedding venues. Catering to both tastes.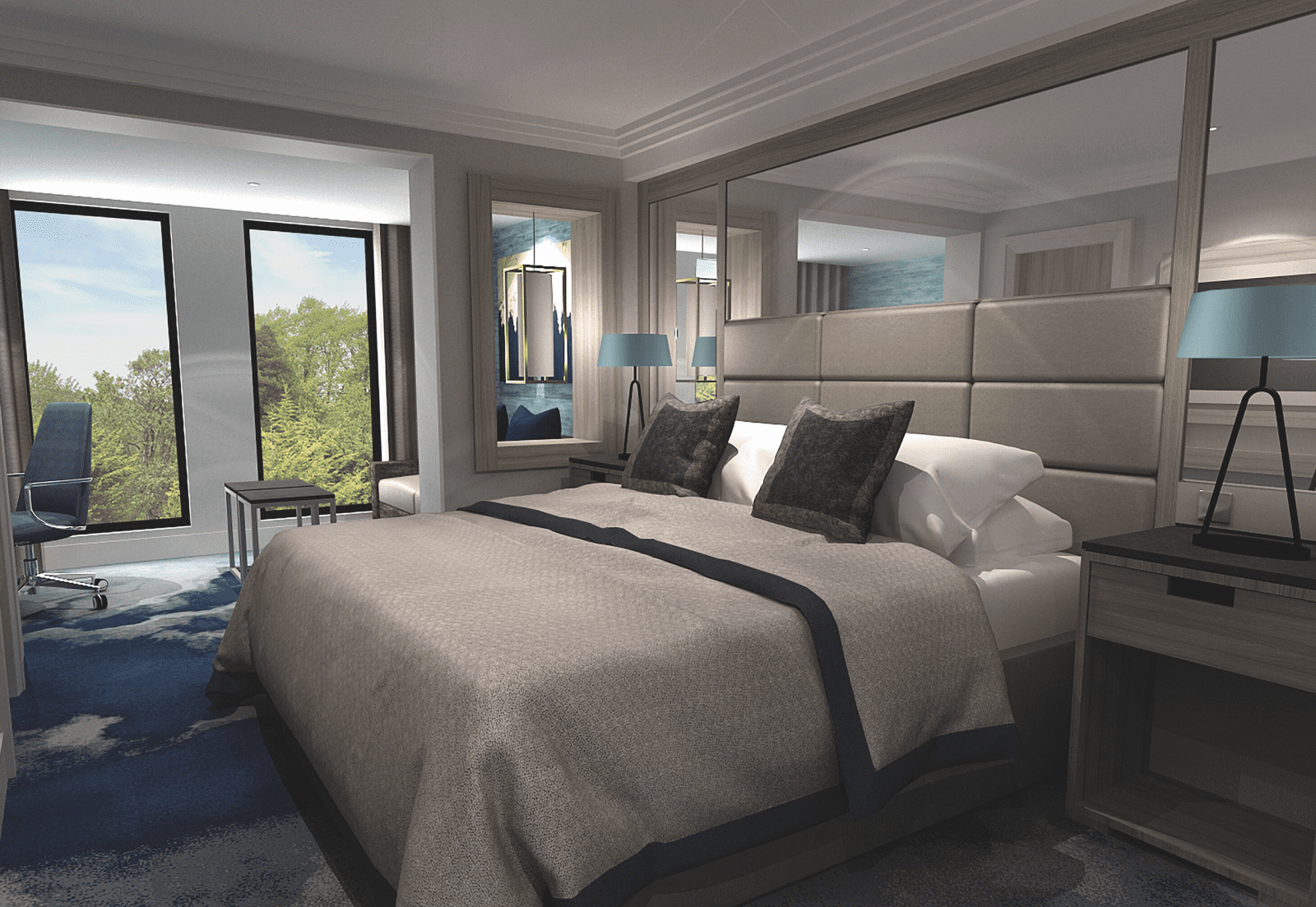 When Will It Be Open?
With work scheduled to be complete in May 2019 our new hotel will be open in the Spring, and you can keep up to date on progress and changes on our Social Media sites. But, we would like to give you an inside look at the thought process behind the new designs.
The Function Suite
Let's start with our Function Suite! It was designed to exude luxury. With the colour palette and textures working together to create an elegant finish. The room will be dressed with custom made and designed wool carpets, tall diamond cut mirror and tile wall features, stone bar tops and diamond cut mirror ceiling features. All seamlessly linked by a digitally controlled colour changing lighting system. Bringing that modern flare. Top that off with a wall of floor to ceiling windows and you will have the perfectly lit open space to host any event.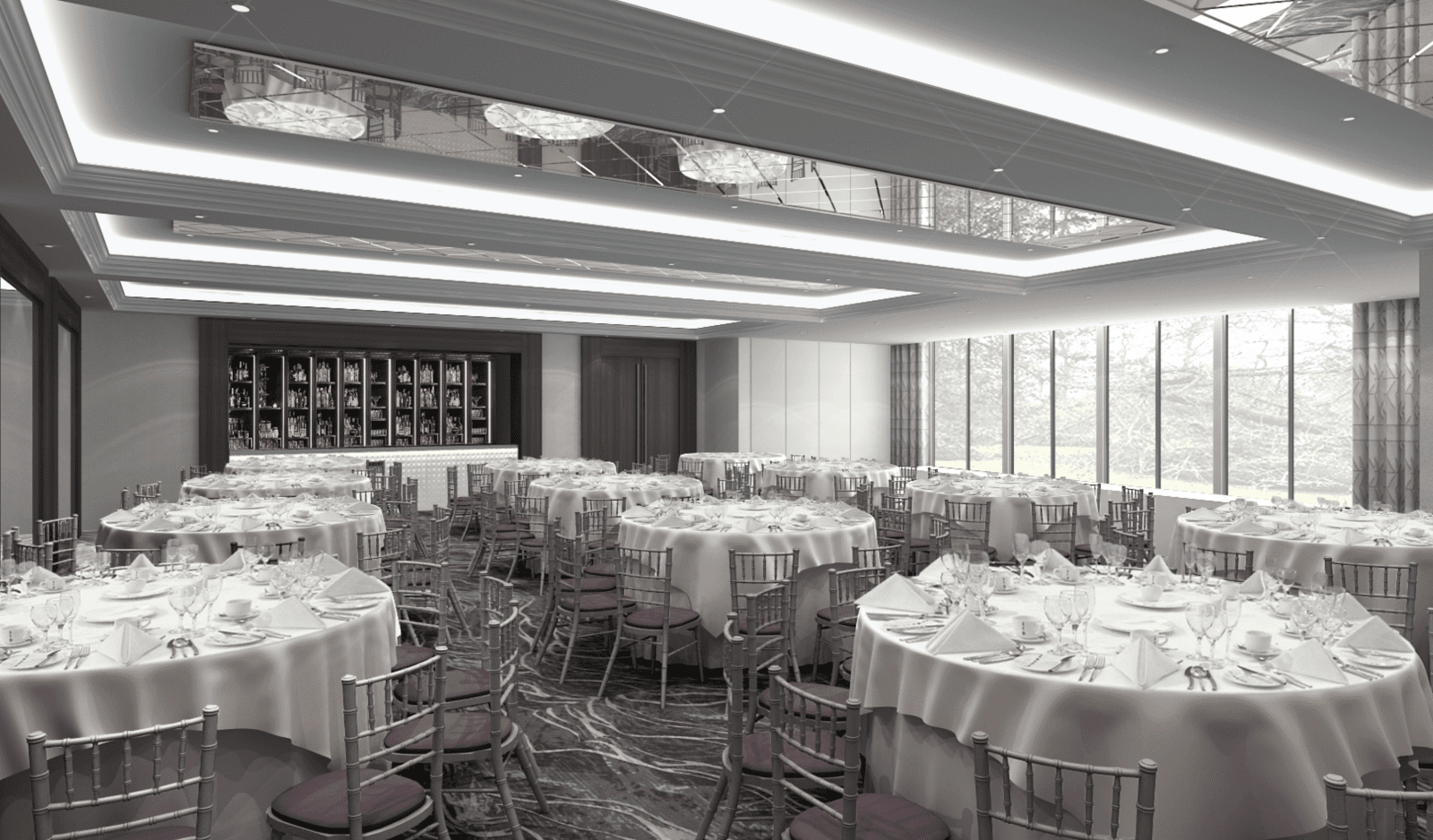 Honeymoon Suite
Moving on to our  Honeymoon Suite. From the unique custom embroidery to the armchairs and diamond leather upholstered headboard, everything in this room will give a sense of individuality. Something fresh and not seen before in a hotel of this style. A combination of sumptuous silks, velvets and wools will add texture, while diamond cut mirror features create sparkle. Golds, champagnes, silvers, teal tones and dark rich timbers will all work together to provide a palette that is comfortable and calm. Exactly the way you want to feel on your special day.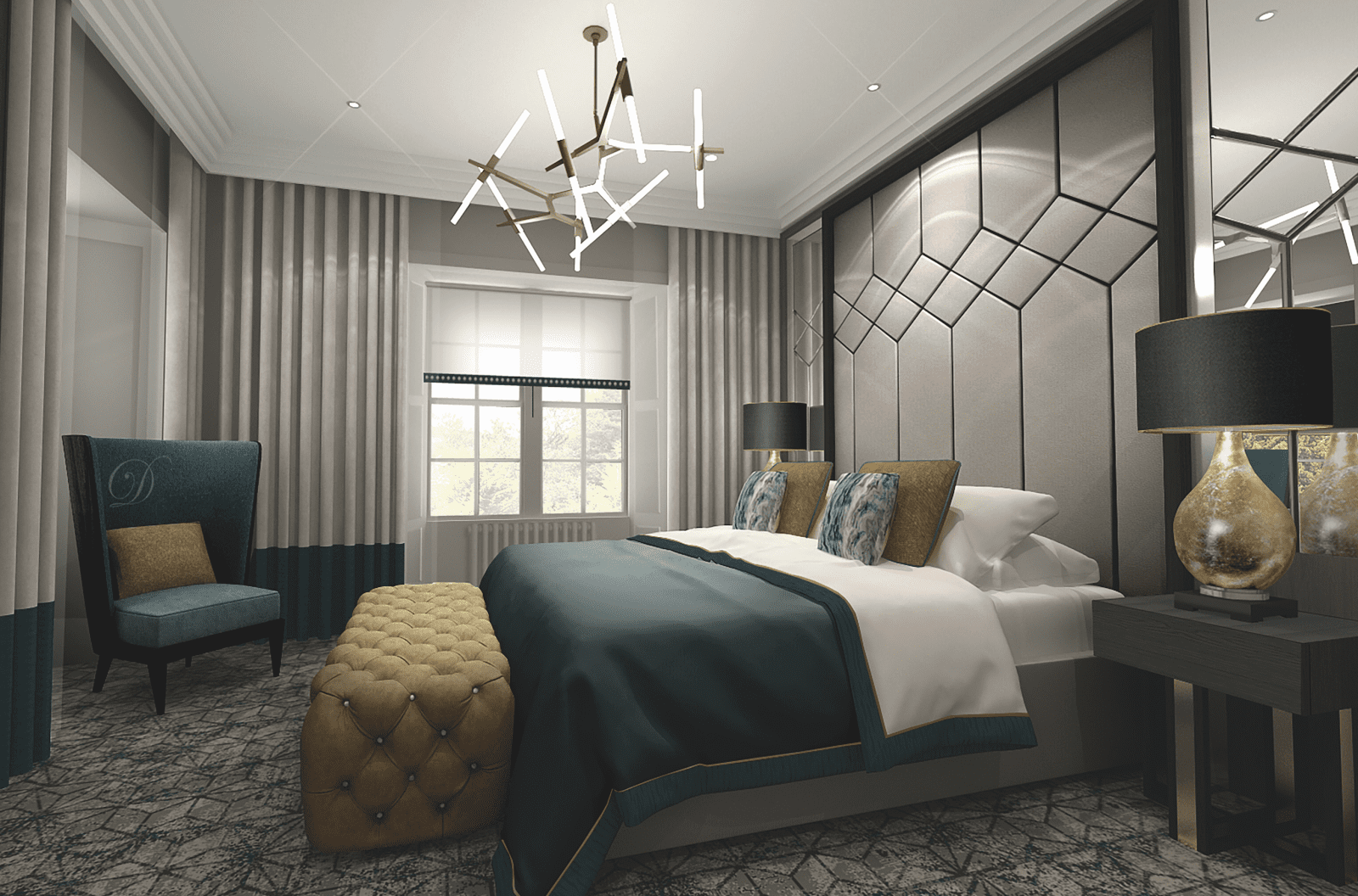 Restaurant
And finally, to our restaurant. The fully glazed extension will flood the room with natural light. Bringing colours alive and providing a stunning open space to dine, meet and relax. Bold colours and patterns will be combined with glossy monochromatic geometrics, the vibrancy all reflected in 3-tone mirrors. Bespoke carpets, timber floors, stone table tops and diamond stitched upholsteries all add to the quality feel. Whilst the lighting can be set to provide the perfect dining ambience. The room will be a perfect example of the renovation concept coming to life, maintaining the hotels classic elegance but using the materials of the 21st century.