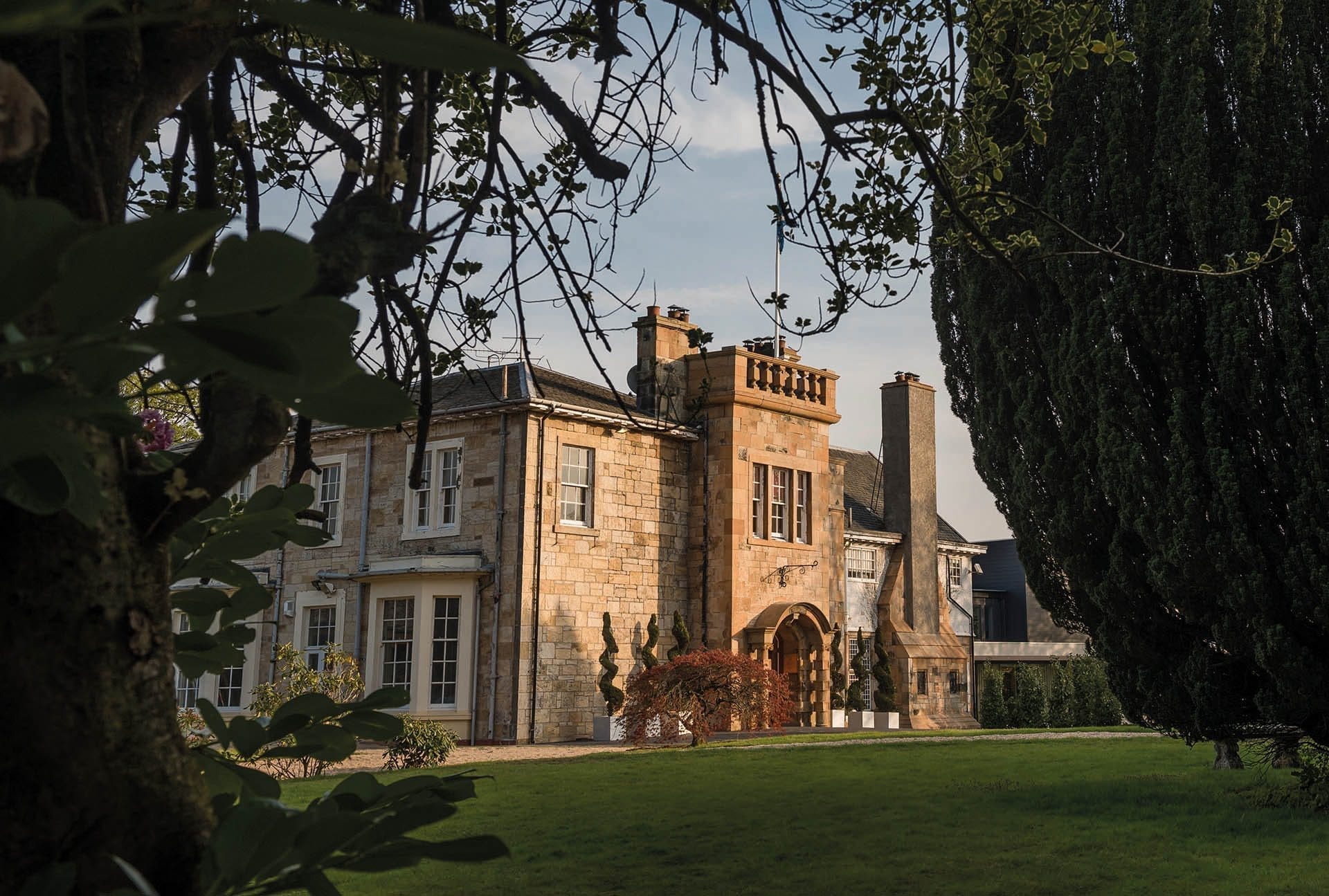 Dalmeny Park House Hotel
Rose Suite and Lounge Menu
Enjoy a delicious meal from our Lounge Menu.
Join us in our Rose Suite and Lounge and enjoy a delicious lunch and dinner here at Dalmeny Park.
Please be aware that menus may be subject to change as we want to make sure our new menus are perfect for all our guests.
Starters
CHEF'S SOUP OF THE DAY

£4.75

(V) CREAMY GARLIC MUSHROOMS

£6.25

spring onions, mature cheddar, garlic ciabatta bread
RAD TOWER OF HAGGIS AND BLACK PUDDING

£6.50

crispy leeks, peppercorn sauce

CHICKEN LIVER PATE

£6.25

red onion marmalade, garlic ciabatta bread

(V) PANKO BREADED BRIE WEDGES

£6.50

cranberry preserve, crisp salad leaves

TRADITIONAL PRAWN COCKTAIL

£6.50

marie rose sauce, buttered brown bread

(V) DUO OF HONEYDEW MELON AND WATERMELON

£5.95

soft fruits, summer berry compote

CHICKEN TEMPURA

£6.95

teriyaki dip, sweet chilli sauce
available as a main course with fries £11.95
Side Orders
MIXED SEASONAL SALAD

£1.95

BUTTERED VEGETABLES

£1.95
CAJUN FRIES

£2.25

ONION RINGS

£1.95

GARLIC CIABATTA BREAD

£1.95

GARLIC CIABATTA BREAD WITH CHEESE

£2.25

FRENCH FRIES

£1.95

COLESLAW

£1.95
Mains
6OZ SCOTTISH SIRLOIN STEAK

£16.95

haggis, peppercorn sauce, fries, onion rings

(V) BUTTON MUSHROOMS STROGANOFF

£10.50

smoked paprika, sour cream, basmati rice, garlic ciabatta bread.
add chicken £3.00, add beef strips £5.00
BREAST OF CHICKEN WITH BLACK PUDDING

£12.95

diane sauce, potatoes, root vegetables

CLASSIC STEAK PIE

£11.50

puff pastry, market vegetables, creamed potatoes

GRILLED FILLET OF SALMON

£12.95

caper, prawn and lime butter, pearl cous cous, crispy fried baby spinach

OVEN BAKED TRADITIONAL LASAGNE

£11.50

garlic bread, salad, fries

(V) ORIENTAL VEGETABLE STIR-FRY

£10.50

roasted cashew nuts, soft egg noodles, add chicken £3.00, add beef strips £5.00

BATTERED FILLET OF HADDOCK

£10.95

fries, garden peas, salad, tartar sauce

CAJUN SPICED CHICKEN BREAST

£11.50

coriander basmati rice, coconut curry cream, peshwari naan

RAD STEAK BURGER

£11.50

6oz burger, applewood smoked cheddar, bacon, tomato relish, fries, toasted bun, coleslaw
Desserts
CHEF'S CHEESECAKE OF THE DAY

£6.50

summer fruit garnish, vanilla ice cream

STRAWBERRY AND VANILLA CREAM PAVLOVA

£6.50

ripple ice cream, summer berry coulis
STICKY TOFFEE PUDDING

£5.95

butterscotch sauce, vanilla ice cream

SALTED CARAMEL AND BANANA TART

£6.25

chantilly cream, belgian chocolate sauce, tablet ice cream

LUXURY CHOCOLATE FUDGE CAKE

£5.95

fudge pieces, white chocolate shards, vanilla ice cream

CHEESEBOARD

£6.50

Smoked Applewood, brie, blue cheese,
cheddar, biscuit selection, grapes, apple chutney

SCOTTISH SUNDAE

£6.50

crumbed tablet and shortbread, sliced strawberries, ripple ice cream, whipped cream, red fruit coulis

TRIO OF ICE CREAM

£5.50

vanilla, chocolate, raspberry ripple,tablet choice of sauces: toffee, chocolate, raspberry
Light Bite's
MAC N CHEESE

£7.95

POSH FISH FINGER SANDWICH

£6.95

haddock goujons, tartar sauce, baby leaf salad, toasted bun
SPICY NACHOS

£6.95

salsa, mozzarella, jalapenos, sour cream

CHILLI BEEF NACHOS

£7.50
Sandwiches
SLICED HAM, CHEDDAR, TOMATO

£6.50

PRAWN MARIE ROSE

£6.75
CHICKEN AND BACON MAYO

£6.50

TUNA AND RED ONION MAYO

£6.50

FARMHOUSE EGG, MAYO, ROCKET

£6.50

SMOKED CHEDDAR, RED ONION CHUTNEY

£6.50
Cakes
FRUIT SCONE | BUTTER | JAM

£2.50

MILLIONAIRE SHORTBREAD

£1.45
STRAWBERRY TARTS

£2.25

BUTTERED SHORTBREAD X3

£1.30

LEMON DRIZZLE SLICE

£1.50
Afternoon Tea
Afternoon Tea

£16.95

Savoury selection sweet delights, freshly brewed tea or coffee